India is a country having a rich and diverse culture. You may know about many great temples, but do you know about a temple near the Villupuram district of Tamil Nadu? The Koothandavar Temple is known for its celebration of Koovagam, also known as the Kumbh Mela of the Transgender Community. It is a festival that celebrates the union of Transgenders, also known as Aravanis. Let's get into the story behind this festival.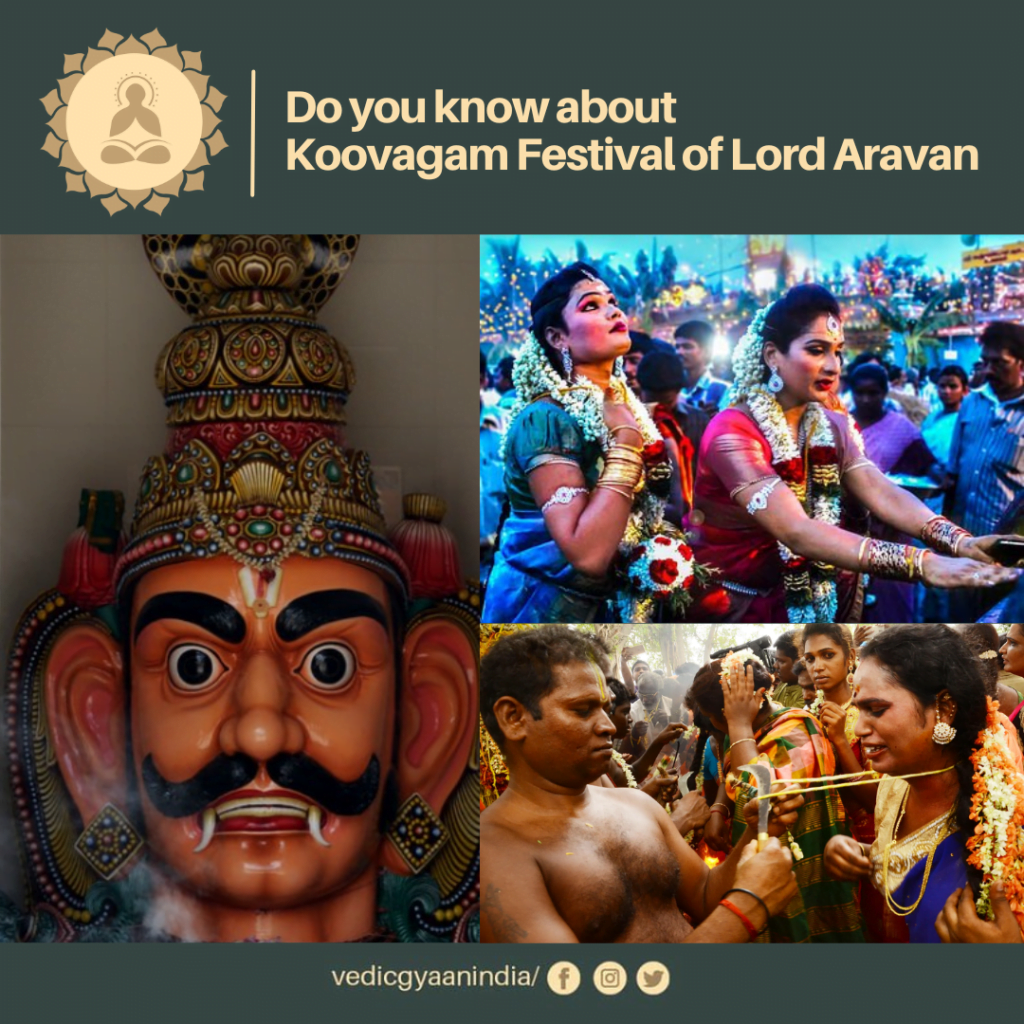 Story Behind Koovagam Festival
Aravan was the son of the great warrior Arjuna and the Naga Princess Ulupi
During the Mahabharata, Pandavas needed to offer a warrior as a sacrifice to win the war against Kauravas. To do so, they went to the warriors to know if anyone willingly wanted to sacrifice themselves. Aravan, the son of Arjuna, came forward for the sacrifice. However, he had a last wish before the sacrificial ritual. He wanted to get married to someone.
But no one wanted to marry someone who would die the next day. Therefore, Lord Krishna took the avatar of Mohini and married Aravan to fulfil his last wish. Also, Lord Krishna cried to his death as his widow in his avatar as Mohini. It is how Aravan became a core element of the Koovagam festival.
Celebration of Koovagam Festival
Lord Krishna's avatar as Mohini before the war of the epic Mahabharata shows the harmony between the masculine and feminine avatars of Lord Vishnu. Therefore, to celebrate this harmony, the Transgender community unites at the Koothandavar Temple dedicated to Lord Aravan.
The festival celebration continues for 18 long days (equal to the war of Mahabharat) in the Chaitra mah (March-April). Several events take place during these 18 days, where the transgender community dress up on the seventeenth day to marry Lord Aravan and cries out their hearts on the eighteenth day to mark his sacrifice and all being a widow again.
The Koovangam Festival is a unique festival that brings out the beauty of diversity in India, similar to other Sanatan Temples.
To know more such informative blogs, follow Vedic Gyaan on Instagram, Facebook and Twitter.